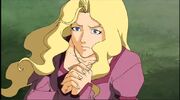 Personal Profile
Birthname: Hope
Alias: Lady Death & Lady Demon
Birthdate: 1470s
Birth place: Sweden
Relations: Marion(mother) & Matthias(father).
Natonality: Swedish
Religion: Catholic
Species: Human
First Comic Book Appearance: The Reckoning #1
Home: Sweden
Marital Status: Single (once engaged to Niccolo)
Sexuality: Straight
Height:?
Weight:?
Bust:?
Waist:?
Hips:?
Hair Color: Blonde
Eye Colour: Blue
Skin Colour: Beige
Distinguishing Features: Free flowing long hair, commoner dress, and a crusifix necklass.
Bio
Trivia
Her death sentence in both the Chaos & Avatar versions are both the same. Being sentenced to be burned on a stake, but got rescued by a demon after chanting a summoning spell and renouced her humanity.
Transforming into Lady Death(Animated Version)
Ad blocker interference detected!
Wikia is a free-to-use site that makes money from advertising. We have a modified experience for viewers using ad blockers

Wikia is not accessible if you've made further modifications. Remove the custom ad blocker rule(s) and the page will load as expected.